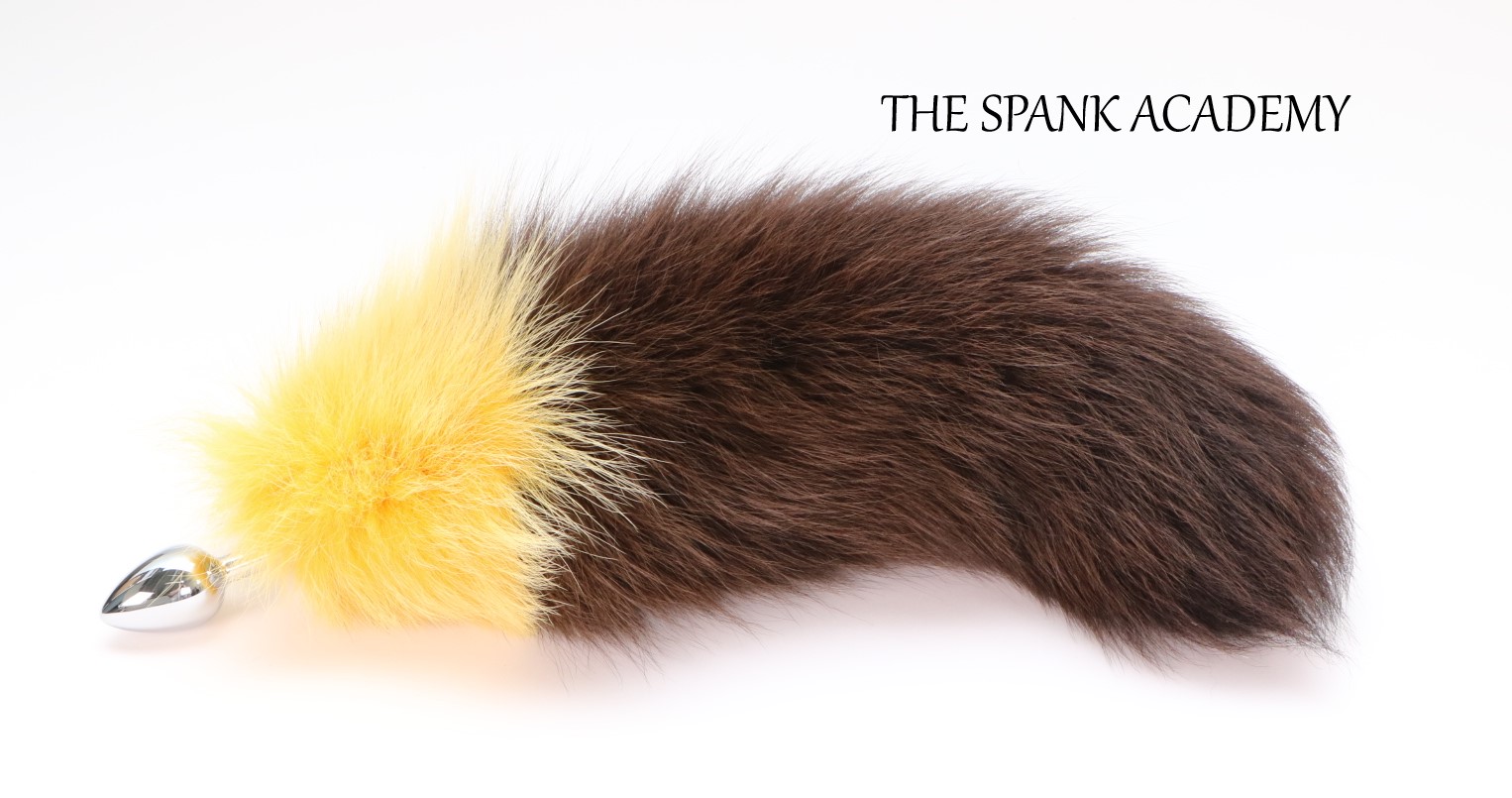 "One Of A Kind" Fox Tails
**E044** 14" White Fox Tail Dyed Yellow & Dark Brown - BUTT PLUG, STAINLESS STEEL BUTT PLUG, BDSM BUTT PLUG, FOX TAIL
This Dyed Genuine (never synthetic) Fox Tail is the perfect play thing for those who have a fur fetish/fantasy. It is incredibly soft and plush for that extra stimulation and add new sensations to your solo or partnered erotic play, and/or use it for your everyday self-expression. Celebrate your culture; it's perfect for private parties or public conventions!
This tail has a unique natural swish to its movement, when it brushes against your skin, you will be absolutely enamored with how sturdy it is, and wild it makes you feel.
You may order the tail with or without a butt plug.
If you order "naked" tail, it will have nothing at all done to it whatsoever, it is just a plain tail (no plug, no clip, no nothing).
Our plug comparison photo is NOT TO SCALE, please READ the written dimensions and understand them before placing an order. We are not responsible for your choices with regards to the plug size arriving either smaller or larger than you "thought they would be".
STAINLESS-STEEL SMALL PLUG MEASUREMENTS:
Overall length: 2.75 in / 6.98 cm
Widest-point circumference: 3.5 in / 8.89 cm
Insertable length: 2.5 in / 6.35 cm
Weight: 1.8 oz / 51.02 grams
STAINLESS-STEEL MEDIUM PLUG MEASUREMENTS:
Overall length: 3.0 in / 7.62 cm
Widest-point circumference: 4.0 in / 10.16 cm
Insertable length: 2.75 in / 6.98 cm
Weight: 3.2 oz / 91.71 grams
STAINLESS-STEEL LARGE PLUG MEASUREMENTS:
Overall length: 3.5 in / 8.89 cm
Widest-point circumference: 5.0 in / 12.7 cm
Insertable length: 3.25 in / 8.25 cm
Weight: 5.6 oz / 158.75 grams