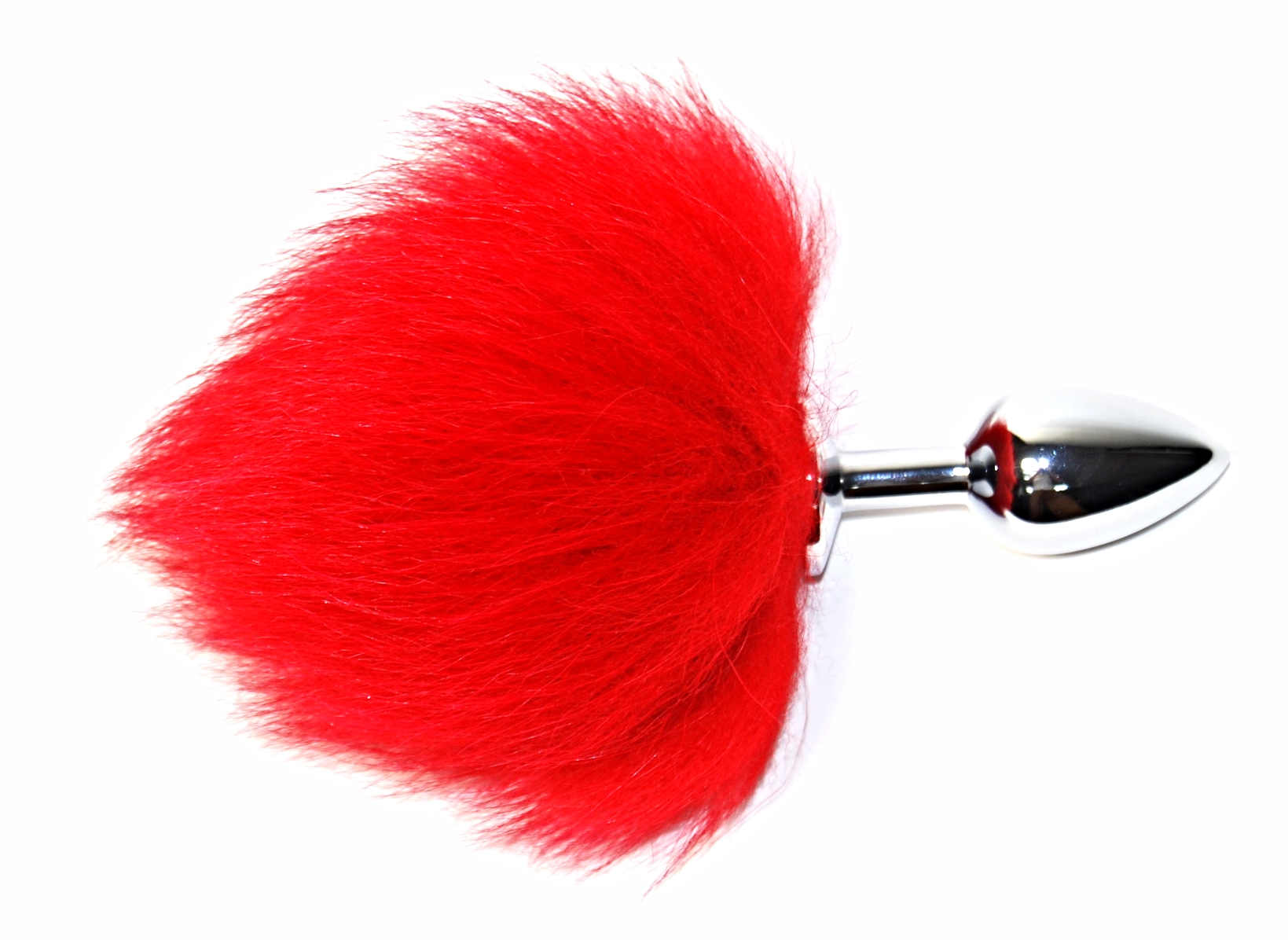 Sale Items
sale
CLEARANCE Indigo Fox Dyed RED Bunny-Tail, with stainless steel plugs 3 sizes! - Butt Plug Tail, Furry Fantasy, Roleplay Fetish, FURRY TAIL BUTT PLUG Sex Toys, Anal Toys
This (REAL, never synthetic!) indigo fox tail butt-plug dyed red is the perfect plaything for those who have a fur fetish/fantasy. Add extra stimulation and new sensations to your solo or partnered erotic play, and/or use it for your everyday self-expression. Celebrate your culture; it's perfect for private parties or public conventions!

This tail has a unique natural swish to its movement, when it brushes against your skin, you will be absolutely enamored with how sturdy it is, and wild it makes you feel!
PLEASE READ THE LISTING VERY CAREFULLY BEFORE CHOOSING.
Our plug comparison photo is NOT TO SCALE, please READ the written dimensions and understand them before placing an order. We are not responsible for your choices with regards to the plug size arriving either smaller or larger than you "thought they would be".
STAINLESS-STEEL SMALL PLUG MEASUREMENTS:
Overall length: 2.75 in / 6.98 cm
Widest-point circumference: 3.5 in / 8.89 cm
Insertable length: 2.5 in / 6.35 cm
Weight: 1.8 oz / 51.02 grams
STAINLESS-STEEL MEDIUM PLUG MEASUREMENTS:
Overall length: 3.0 in / 7.62 cm
Widest-point circumference: 4.0 in / 10.16 cm
Insertable length: 2.75 in / 6.98 cm
Weight: 3.2 oz / 91.71 grams
STAINLESS-STEEL LARGE PLUG MEASUREMENTS:
Overall length: 3.5 in / 8.89 cm
Widest-point circumference: 5.0 in / 12.7 cm
Insertable length: 3.25 in / 8.25 cm
Weight: 5.6 oz / 158.75 grams
Please note that every fur is a unique piece of nature, and as such, the colors and patterns will vary slightly from piece to piece, the photograph on the listing will not be the exact same as the item you receive.
Our tail sizes are measured BEFORE they are assembled to the plugs. This means that the tail you receive will measure slightly smaller because of the process required to attach them. Your tail may APPEAR smaller than it actually is.
Sizes will vary within the parameters stated in the product title.
Looking for a different length of this tail? Please drop us a line! We probably have it!
You will be prompted to choose a plug style and size when you add this item to your cart. Please note that this tail is the same prices regardless of what connection type you choose, an awesome bargain!